on
September 10, 2014
at
12:05 AM
Well at least they've now found it, eh?

Being that I am from the great state of Connecticut, this coming weekend I will be attending the 2014 ConnectiCon convention! This will be my fourth year going, and it's always a lot of fun. I'm especially excited for this year, considering some of the guests include voice of Korra and "The JV Club Podcast" host Janet Varney, AND femshep from "Mass Effect" herself Jennifer Hale! (I geek out HUGE for voice actors. I think they deserve much MUCH more respect than they get).
I'd like to say "hey, come see me at table blah blah blibbity," but Chelsea & Millie will not be represented at the con in Artists Alley I'm afraid. We just couldn't swing that this year. But if you catch me wandering around, I encourage you to say hi! Being friendly is always great.
But if you ARE at the con, I also encourage you to drop by panel room 6 at 11:30 a.m. on Friday, July 11th, to see "Digimon: 15 Years Later…" A panel hosted by a good friend of mine that I will be helping hi co-host. We'll be talking about the history of Digimon and what made us fall in love with it back in the day. It should be a grand trip down memory lane. Not to mention neither of us have hosted a panel before, so this could be a marvelous sight to behold ;)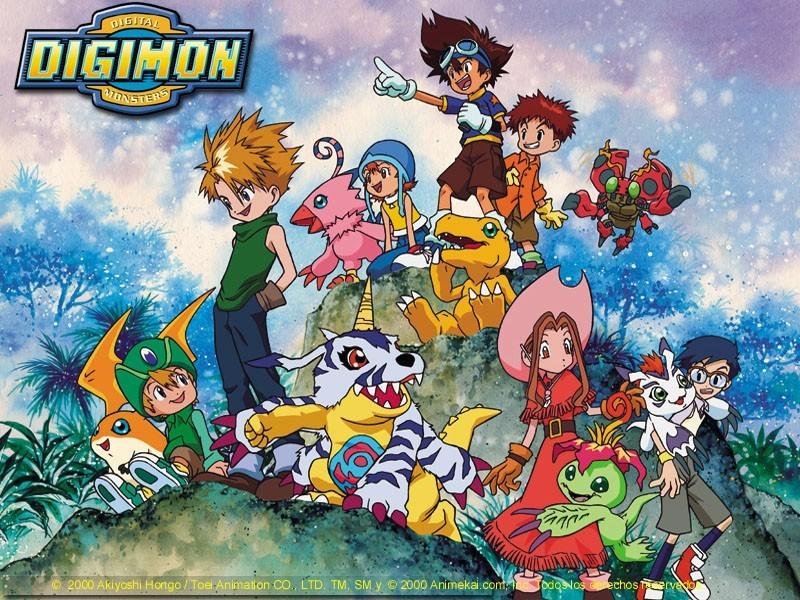 So come check it out!
Keep Hope alive and have Faith!
Hello my beauties! My name is Tom. That's right, the very Thomas D. Szewc you see plastered all over this website. On behalf of myself and my creative-partner/ best friend Maxwell Vex, we would like to welcome you to the launch of "The Sequential Adventures of Chelsea & Millie!" This comic has been a long time coming (something followers of our previous respected works can attest to) and we're so very happy to finally have it up for you all to see. A lot of blood, sweat, and tears went into this…until we realized we had the budget to buy actual ink, then we went with that.
It's kind of surreal to see Chelsea & Millie finally running amok online. I've spent years coming up with words for them to say, while Max has spent even more time drawing them over and over and OVER again, like any comic artist worth his salt would. Now we unleash our creation out into the world. *sniff* Go little birds! Flee the nest!
So, what to do on your first stop here? Well, first and foremost, the first Chelsea & Millie story, "Mess You Up," is available to read in it's ENTIRETY! That's right, you can read the entire first chapter from start to finish right away without having to wait for any updates. Then join us here next week as we begin their next adventure, "For Shadow," with new pages being posted each week on Wednesday.
If you're curious to learn a little bit more about the history of "The Sequential Adventures of Chelsea & Millie" and where it came from, head on over to our handy About page. Next, you can learn a few things about the crazy kooks who created this comic, myself and Maxwell Vex, by heading over to the The Comic-Makers page. There's A LOT more coming as the site continues to grow, and we hope you feel so inclined to stick around and experience it.
Don't just come here for the comic either! Be sure to keep an eye on this "Transmissions From Beyond" blog for regular posts from Max and myself. Naturally will give you our thoughts on what's going on in the comic and updates on its production, things like that. We'll pull back the kimono and give you insight into the inner workings of "The Sequential Adventures of Chelsea & Millie." Of course, Max and I will be blogging about our other interests as well. We're both big movie and music buffs, so don't be surprised if you see a few recommendations and insights. You might also hear me run my mouth now and then about the worlds of Japanese Anime and Professional Wrestling ;) This is our forum! We shall fill it with our ramblings!
Finally, if you have any questions or comments for Max or yours truly, you can e-mail us at chelsea.and.millie@gmail.com . We love hearing from you guys, so please don't feel shy! Heck, even if you just want to say hi, send one along. Even if all you want to do is tell us about the bagel you had for breakfast shaped like Bill Murray, lay it on us. We can also be reached at our various social media presences, listed in the sidebar to the right of the comic and blog. Also, be sure to follow Chelsea and Millie themselves on Twitter for bonus content you won't find on the comic!
So that about covers it. We do hope you enjoy what you're about to read. We've taken all that we've learned over the years and made our best attempt at making something truly special for you guys. Welcome to the world of "The Sequential Adventures of Chelsea & Millie!" YES! YES! YES!
Keep Hope alive and have Faith ;)